Weaving in the Wild Woman
Is there a nudge within you to make more intuitive decisions in your life?

Would you to like to incorporate all of your body, mind and soul?

Do you feel a full body yes to embrace your Wild Self?
We all carry a Wild Woman within: that part of us that is intuitive, all-knowing, strong and a touch unconventional. In the online journey Weaving in the Wild Woman, I show you the way home to yourself.

Do you feel her yet? Your inner Spiritual Feminist is waiting to be unleashed!
In four modules (plus two bonus workshops), I show you the magical possibilities which are released when you unleash your inner Wild Woman.
This includes video & audio workshops, imaginative practices, guided meditations and deep embodiment practices! This journey is self-paced – meaning you can start weaving in your Wild Woman today!
Are you ready to live intuitively?
Weaving in the Wild Woman is designed for you...
... to explore your intuition
... to uncover the magic that is hidden within you
... to release deep conditioned beliefs about what it means to be a woman
... to start reclaiming your wild self
This journey brings you the foundation of understanding what Wild Woman is, how you can connect to her and – most importantly! – embody her.
It includes inspiring stories and magical rituals AND tangible tips, prompts and ideas to immediately feel into and apply to your life.

Additionally, it is designed to meet you on YOUR personal journey (as always!). You can adapt and change any offering within this journey to meet you on your path. This is why I designed this journey to be self-paced. Allowing yourself to do so is the true empowerment process, after all!
Bring yourself on a Wild journey!
Do you seek practical ways to weave your empowered sense of Self into your every day?
4 powerful modules, breaking down in tangible steps how you can connect to your inner Wild Woman
These 4 modules bring in myth and stories, explain the concept of archetypes and invite you to awaken your imagination.
This is powerful because it will bring you on a personal journey home to your intuition and inner fire! You will be guided by me through the form of video and audio (your choice) workshops, providing you inspiration, reflection and accountability. The modules include guided meditations to embody your Wild Self & embodiment practices such as personalised rituals and accompanying prompts to deeply lock in the inner work.
Awaken, Uncover, Weave and Rise Up as your Inner Wild Woman
You will receive the recordings of two bonus workshops, diving deep into the additional archetypes of Burning Woman & the Witch. These two archetypes overlap with Wild Woman in their empowerment, connection to nature and feminine reclamation. These two workshops will further inspire you to embrace your inner journey – and will hopefully ignite that inner fire even more!
↓ Have a peek inside the journey ↓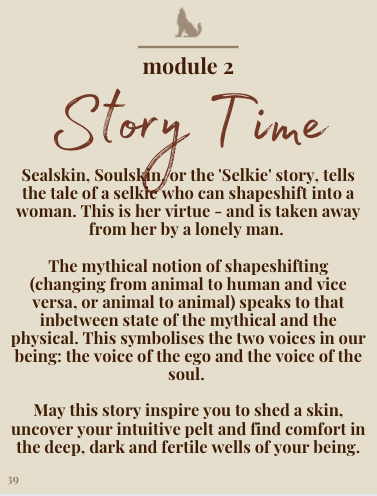 Bring yourself on a Wild journey!
Remembering my Wild Woman and truly Weaving her into my day-to-day life has been life-changing.
Wild Woman energy is within all of us. Through lifetimes of conditioning and imposed limiting beliefs, we have numbed and silenced her power – but she is waiting for us to awaken her.
Wild Woman speaks to our intuitive superpower. The Wild Woman within carries a deep knowing, a rooted sense of Self, an empowered way about her. And once you start to lean into her wise ways, there's no going back…
Weaving in the Wild Woman takes you beyond the basic understanding of spiritual empowerment. It truly guides you to apply empowered beliefs as well as shadow work in your own life, in your own way. After all, the true empowerment process lies in making rooted decisions and reclaiming agency over your own life, body and mindset.
This journey is designed for you to take back the reigns, take off your shoes, and run through the methaphorical forest with a free heart and wild hair.
What is possible for you when you let your inner Wild Woman take over?
Create your own reality, based on grounded & empowered beliefs, spiritual practices and a deep connection to your body, mind, soul & intuition